Climate justice – NOW !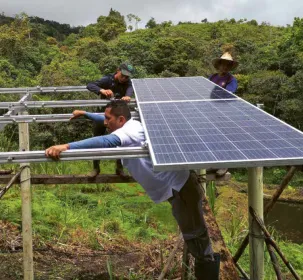 Climate justice is once again at the centre of the Ecumenical Campaign in 2022.
The manner in which we in the northern hemisphere live, travel and eat is to the detriment of others. Particularly people in the southern hemisphere are threatened by problems which they themselves have not caused. Extreme weather conditions such as drought and flooding are happening in some areas in the same year. Our excessive energy demand is one of the greatest causes of the climate crisis. To preserve creation, we need to take collective responsibility and exert pressure to find good solutions for our energy needs and our lifestyles. Only so can we reduce the negative consequences of our actions and limit global warming to 1.5 degrees Celsius.

Energy should be available to everyone. This is essential in the fight against poverty and for the right to have food. Together with local partner organisations in the southern hemisphere, the charities of the Swiss churches engage in projects to create local renewable energy produced in a socially correct manner in consultation with the local population and indigenous peoples. Human rights and environmental standards must be met when producing this energy. Moreover, the local population must have access to, and control of, the energy produced.

The challenge: Energy production is currently responsible for 70% of global CO2 emissions. For this reason, we, in the global North, need to reduce energy consumption and move toward more sustainable technology. We, as a society as well as individuals, must change our lifestyles, live more frugally, set and respect boundaries.

Let us take collective responsibility and all contribute to the target "Net Zero Emissions by 2040". Partner sein, together with the charities of the Swiss Reformed and Roman Catholic churches, is engaged for climate justice – NOW.

We can all help: The Ecumenical Campaign runs from Ash Wednesday March 2, to Easter Sunday April 17, 2022.