Donate a cow !
A donation of Fr. 800 for the project K 02 will give a poor Congolese farming family a livelihood und prospects for the future.
Because you are my help, I sing in the shadow of your wings.
Our Projects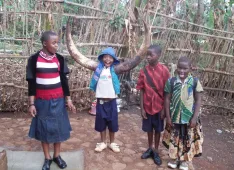 Owning a cow promote welfare and cheerfulness of poor peasant families.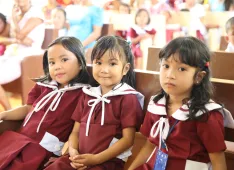 Girls in the kindergarten of Union Ubay, Philippines
Partner sein supports projects in terms of helping people to help themselves. Sustainable development work should not lead to financial dependence but promote organizational and economical autonomy. Our project partners on-the-spot are enabled to pursue successfully their project independently after some time. When this goal is achieved, Partner sein retires and supports other projects. As a sign of a living catholicity of the Church, the dialog based on partnership with our project partners is especially important.

In 2019 Partner sein supports altogether 27 projects in 9 lands from Africa and Asia. You find these in the project list 2019 sorted by land.
Changed: 13.12.2018 Visits: 20 month