Donate a cow !
A donation of Fr. 800 for the project K 02 will give a poor Congolese farming family a livelihood und prospects for the future.
Because you are my help, I sing in the shadow of your wings.
Our five most important goals
Schoolchildren in Uganda appreciate our support.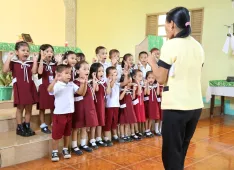 In the kindergarten of Union Ubay, Philippines: The children sing and play with enthusiasm.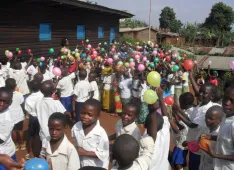 Big inauguration festival of the new school building
1. Pastoral Mission
We fulfil the pastoral mission of the Gospel in the name of our church (Matthew 25.40).

2. Resource concentration
We recognise the United Nations Suitable Development Goals. As a general rule, our projects concentrate on improving health conditions, education, alleviation of poverty and catastrophe aid. Our ambition is to help people to help themselves.

3. Diligence and expertise
We are careful with the donations we receive. We keep administrative costs to a minimum so that most of the money we receive may flow into our various projects. With careful project management (selection of the project, planning, execution and controlling) do we ensure effective use of donations received.

4. Integration of our partners
Every project needs a reliable local partner. We strive that the local population actively participates in bettering their own situation.

5. Confidence in our Charity
With a professional appearance and attitude, we wish to strengthen trust in Partner sein and its project partners, so that the church, the individual parishes, donators and other parties recognise us as a competent charity.

Changed: 09.05.2019 Visits: 11 month