Radiant faces: Mabuhay!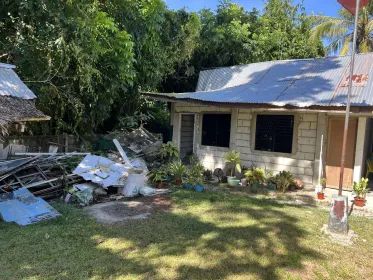 Since many years, Partner sein the relief organisation of the Swiss Old Catholic church, has supported the running of six kindergarten in the Philippines. Shortly after Easter, a delegation from Partner sein travelled to the island of Bohul and visited these kindergarten.
Six hours time difference and an oppressive warm humidity meant that we needed time to get our bearings. However, being in a wonderful tropical landscape with its varied and colourful vegetation together with the friendliness and hospitality of our hosts from our church partners made it easy for us to adjust.

Four representatives of Partner sein visited all six of the kindergarten run by our partner church, Iglesia Filipina Independiente IFI on the island of Bohul. The purpose of our visits was to ensure that the financial support given by Partner sein was being properly used. Originally this trip was planned to take place three years ago, but was delayed by the Covid-19 pandemic. For good orders sake, and to avoid any misunderstandings, it should be noted that each participant paid for their own travels and accommodation out of their own pockets. No money donated to Partner sein was used.

A packed travel programme

The Bishop of Cagayan de Oro, Felixberto Calang, had prepared a detailed itinerary for us. Every day something new was on the agenda: a visit to the women's Synod and the church community in Cagayan del Oro on the island of Mindano; an overnight ferry crossing to the island of Bohul; participation in Sunday church services in Ubay and Candijay; three days visiting the six kindergarten in the various church parishes; several tourist attractions and two days rest before returning home.

In Cagayan de Oro we experienced the vibrancy of IFI: Five women from each of the over sixty dioceses had been invited to a three day women's synod. Together with our Bishop Harald, who was visiting another of our projects and travelling on to the Aglipay Central Theological Seminary ACTS in Urdaneta, Pangasinan, we were treated as honoured guests. We were welcomed by the senior Bischop of IFI, Opispo Maximo Rhee Millena Timbang, and were invited to participate in a number of the events. It was touching to see the vitality, humility and authentic natural assurance that young people brought to the church service.

The Kindergarten visits

The most important point of our trip was to visit "our" kindergarten. We travelled with a little scepticism in our rucksacks. In recent years, the reports sent to us by IFI with regard to the use of our monies had not always been to required standard and, following similar trips to DRCongo, Tanzania and Uganda questions had arisen as to whether the money could be better spent in Africa. Since no one had visited the Philippines since many years it was important for us to see and experience our activities locally.

We experienced a lot. Three days long, in two chauffeur driven vehicles provided by IFI, we travelled to all six kindergarten where we experienced more or less the same programme. Each time impressive and touching; greetings and being escorted to our places of honour in the church or under an awning, prayers, the singing of the Philippine national anthem, speeches by the school officials, song and dance by the children, the teachers and the parents. Thank you's for the reception, the exchange of gifts, and then, photo time, a Philippine pastime – mobile phones click and flash and within minutes much is posted on Facebook. Afterwards, FOOD; firstly refreshments, then snacks followed by lunch or dinner. All home cooked, unbelievably tasty and so much that it would have lasted us a week. Fish, seafood, meat, sweet potatoes and much more, almost always rice, even to breakfast. After the meal, inspection of the premises and watching the teachers at work with the class. Interestedly we six times saw the teaching of the alphabet and counting from 1 to 10. Most of the children were happy and enthusiastic pupils.

Acquaintances become friends

And, in between, the most important thing – time to talk to each other. The Bishop of Bohol, Romeo Tagud, the local ministers and employees of the church, the teachers, our drivers, and whoever we met: the curiosity about our church and private life as well as life in Switzerland in general was remarkable. Especially we noticed – despite our cultural differences – the theological closeness of IFI to our Swiss church. Minority church situation, ordination of women, no celibacy rules for clergy, gender correctness and ecumenical workings are all areas in which our views meet, but are not yet widely accepted in Philippine society. Such discussion turn acquaintances into friends, helped by the particular sympathetic characteristic trait of the people, their friendly placidness and authenticity. Our delegation agreed that, despite initial scepticism, our support for IFI should not be reduced but increased. The inter church connection between IFI and the Swiss Old Catholic church is extremely valuable.

Typhoon damage

The six kindergarten lie mostly far from each other in six different parishes. They are mostly built next to the church on parish land. Some are in small villages in paradise like areas of tropical vegetation and the friendly and cheery villagers give the impression of having no cares in the world. The origins of IFI show that this is a church of the poor. – wealth is nowhere to be seen. At the kindergarten in Candijay we saw the consequences of poverty. Prior to December 2021 there were three kindergarten in the parish. Typhoon Odette, whose destructive work can still be seen everywhere then blew one of the kindergarten away and blew a large tree branch onto another one and destroyed the roof. The parish does not have funds to repair the damage. As a result, only one of three kindergarten is operative. In addition to normal payments, Partner sein has decided to take funds from its "catastrophe fund" in order to effect the necessary repairs.

Mabuhay!

One of the really nicely located kindergarten is in Matin'ao. It is in a village with a regularly used main street and plenty to see. The village is substantial, with a rice mill, a brick making factory, a metal working shop, a plumber as well as various shops and residential blocks. I walked down the street, curiously looking left and right. I can allow myself to do this as the people respond in a friendly fashion to my curiosity, calling greetings, smiling and waving. How would people back home in Switzerland react to a stranger peering into their yards and gardens. The Philippine people are different. One house owner, an old lady, came out to greet me with "Mabuhay! Thank you for visiting my place!", and an interesting conversation began.