Showing public spirit and living a life of solidarity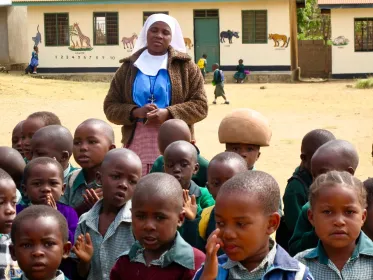 We support the building of a fourth kindergarten for the Anglican sisters in Tanzania.
29 Projects in 2017 for a total of CHF 268'300 will improve the chances of underprivileged people and make this world a little bit fairer. Together with our "traditional" programmes in Africa and Asia, we are also supporting refugees in the Middle East.
CHF 30'000 was our target. Since September 2015 we have raised over CHF 45'000 from church parishes, clergy and individuals for our special project Refugee Help. Partner sein gave a further CHF 15'000 from its own financial reserves. With this, our church has given a sign of its willingness to help others and to be charitable to people in need. We have not been able to solve the world's refugee problems, but we have shown solidarity with those in need. In 2017 a further CHF 10'000 will be given. With CHF 5'000 we will support a competent and recognised charity which provides schooling in Lebanon to refugee children. A further CHF 5'000 will support Christians in the Middle East, suffering persecution because of their faith. Here, we also work with a reliable local charity.

Focus Africa

Since the foundation of Partner sein, Africa has been a major recipient of our help. This year 4 Projects in Tanzania totalling CHF 69'800 are our main focus. 3 of these projects will be additionally supported by the "Soup Day" in Thun, "Solidarity 3rd World", and the "Internationale Altkatholische Diakonie und Mission IAKDM". In the Democratic Republic of Congo, 7 Projects totalling CHF 69'000 are planned. 2 of the projects will be supported by the Swiss World Day of Prayer. In the town of Bagira we are starting the construction of a second school building. The Mission Collection and the organisation "Latitude 21" from Canton Neuchâtel are supporting this work. 4 Projects for a total of CHF 49'500 are planned in Uganda, 1 Project is supported by the Swiss World Day of Prayer, who also support our projects in South Sudan and Zambia.

10 Projects in Asia

Together with our local partner, the Independent Philippine Church, 9 Projects totalling CHF 50'500 are planned. The project "Reforestation and Handicrafts" in Laguna is supported by the Swiss World Day of Prayer. The 10th Project in Asia, "Refuge for Women" in Hong Kong, provides support for domestic staff from surrounding countries who have been ill-treated and dismissed from their jobs with no means of support.

Since years, Partner sein has been able to rely on support from various sources. Most funds however come from donors within the Old Catholic Church. We in "Partner sein" sincerely hope that we can continue to rely on your goodwill.