Partner sein facilitates access to drinking water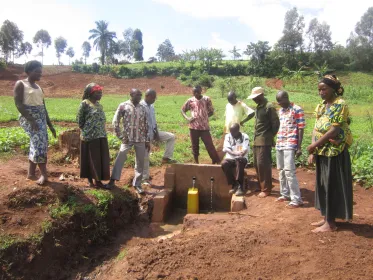 Since 2012 Partner sein has promoted a successful programme of tapping spring water on the island of Idjwi, in the Kivu See, in the east of the Democratic Republic of Congo (DRC). The local population now has access to clean drinking water and as a direct result, the incidence of cholera and typhoid have been drastically reduced and living conditions in the villages improved.
To quote Franz-Peter Murbach, Project Leader French speaking Africa: "Access to clean drinking water is one of the Agenda 2030 Sustainable Development Goals concluded in September 2015 by a UN summit meeting. Partner sein supports the Anglican Diocese of Bukavu at the sharp end. Illnesses such as cholera, dysentery and typhoid are being combated. To give access to clean water for men, women and children, is a dignified and efficient way of doing so."

An average cost of only CHF 600
On average the tapping of a spring costs only CHF 600. Dozens of families can benefit from this spring water. Apart from the necessary chemical and microbiological tests, the required technology needed to tap a spring is simple and endurable. Only gravity is required, no pump and no complex hydraulic systems. The catchment area, from flat to sloping countryside, may need to be fenced off. Where the spring rises, a shallow depression filled with gravel may need to be created. A PVC pipe is inserted horizontally, but with a slight downward angle, into the gravel. Subsequently, a small concrete wall is built to hold the pipe in position. Water will flow along this trough, which can easily be kept clean, and villages may collect clean water in canisters. As a general rule, no taps (which have a tendency to break) are fitted, and the unused water can flow further and be used for irrigation purposes.

A spring is a matter for the whole village
The local population is actively involved in the project and helps with the digging, carrying the cement and gravel from the landing stage to the new spring etc. The people get involved ! Not only to keep costs low, but to reduce the need for sick persons to be carried to an ambulance piroge (flat bottomed boat). This is their reality: cholera is a terrible, debilitating and deadly disease which destroys families, brings permanent grief and not least, swallows up money and work resources. Although Partner sein has assisted in providing medicines, there is nothing better than prevention – access to, education and management of drinking water resources.

A spring can only provide drinking water if the village takes care of it. Up to date, Partner sein has financed the tapping of 50 springs. All are still functioning and no more water borne illnesses have been registered. The local villages clean the springs daily, the catchment area is protected. This is controlled by the local village water commission. The network of villages, with access to a tapped spring, grows annually. The local project leader, Bahati Mutunzi, is an experienced and pragmatic Medical Coordinator to the Anglican Diocese of Bukavu.

Please help us to continue this success story. The Board of Partner sein thanks you from the bottom of their hearts for your continued support.