Partner sein supports the needy in Syria and Lebanon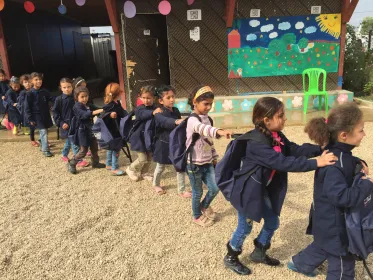 On the spot help: The war in Syria and the suffering of the refugees around the Mediterranean have largely disappeared from the headlines of the press. Out of sight – out of mind ? That would be fatal, as our solidarity is still urgently needed. For this reason, Partner sein will again support these refugees in 2017.
In the media – and therefore in the public view – the war in Syria is just a note in the margin. Occasionally one hears a short report ; of a hospital which has been accidentally or deliberately bombed, a school destroyed or Amnesty International issues a report listing how many people have been tortured or executed in the last years. People are targeted with unimaginable cruelty in order to demoralise them. Today, over 10 million persons in Syria are in need of assistance and more than 4.8 million have taken flight to the safety of neighbouring countries.

One and half years ago Partner sein started a fund raising campaign within the Swiss Old Catholic Church, which successfully raised CHF 45'000 from both parishes and individual donors. A further CHF 15'000 was given from the reserves of Partners sein. 50% of the sum raised was used in Switzerland.

Emergency on the spot help

There are many reasons as to why people flee, not least of which are life threatening violence, oppressive poverty and despair. That is why it is important for Partner sein to help locally so that people do not lose perspective. Despite very difficult circumstances there are relief agencies which continue to operate in the war zone. One of these is the Swiss charity "Jesuiten weltweit" which provides emergency help on the ground. The provision of active emergency relief is not typical for this organisation. Normally they construct school facilities in refugee camps throughout the world. In Syria and the neighbouring countries of Lebanon, Jordan and Turkey the Jesuit refugee service, operating through team of volunteers, has built up a network through which aid can be delivered to where it is needed. In Syria, it is one of the few agencies which can reach the needy, The Jesuits, and their teams of volunteers, take the daily risk that they will be attacked by one of the warring parties. Blankets, mattresses and food are distributed to refugees, whether in official camps or not.

Help in a neighbouring country

The flow of Syrian refugees presents a great challenge to the neighbouring countries of Lebanon, Turkey and Jordan. No country, measured against its own population, has taken in more refugees than Lebanon. Officially, between 1.1 and 1.2 million persons have sought refuge in Lebanon, but in reality, it could be 2 million or more. With a population of 4.5 million, every second person is a Syrian refugee. The Jesuit refugee service runs a number of schools in Lebanon and provides refugee children with education and hope. Many of the children are traumatised by the horrors of war and having to flee their homes.

It is indisputable: The refugee flows of recent years present numerous challenges to Switzerland and Europe. Nevertheless, we should glance to another part of the world, for example to Lebanon. There, a small state is confronted with many problems resulting from the war in Syria. Let us help, to reduce these problems.

In the last year and a half, Partner sein has supported the invaluable work of "Jesuiten weltweit" in Syria and Lebanon with CHF 30'000. In 2017 a further CHF 10'000 should help to ease the lot of these refugees. This money is well invested. Donations with the notation "Refugees" will be gratefully received by Partner sein.