From the Philippines to South Sudan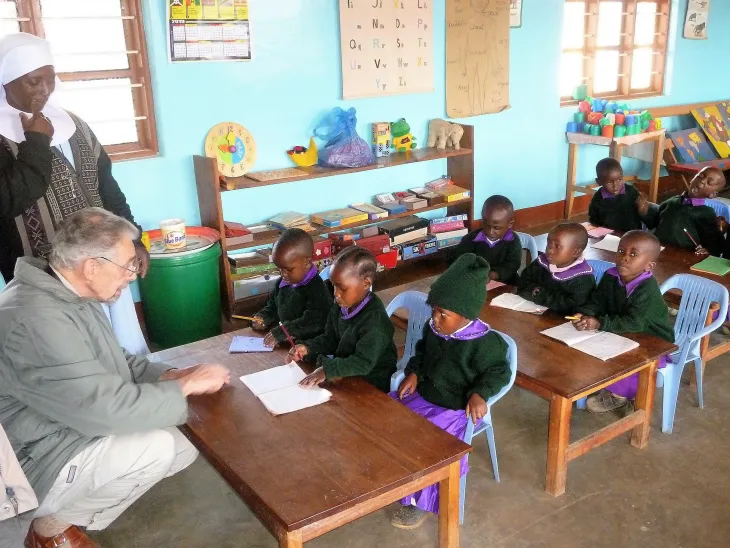 Tanzania: In Massai Partner sein supports the construction of a new kindergarten. The project is competently overseen by Dirk Jüttner who is well versed in the local conditions.
In 2018 the Old Catholic charity, Partner sein, will support 29 projects. With an investment of
CHF 214'500 we will help to improve the lot of poor peoples in eight African and Asian countries. As in previous year, our charity is also engaged in providing on the ground assistance to refugees in the Middle East.
The engagement of Partner sein for refugees is once again concentrated on Lebanon. Syrian refugees present a great challenge to the surrounding countries. In relation to their own population, no land has taken in more Syrian refugees than Lebanon. The Jesuit refugee service runs a number of schools and gives the children not only education, but hope for the future. Partner sein once again supports this work. In addition, we continue our cooperation with the Middle East Council of Churches. We support the provision of medical care to sick Christian refugees in Lebanon who would not have the means to pay for such care.

Emphasis Africa
The largest African project supported by Partner sein is in the eastern town of Bagira, in the Democratic Republic of Congo. Following the successful completion of the first school building and sanitary facilities, in the period 2017 to 2020 a second school building will be erected so that all 600 primary and 200 secondary pupils and staff will have a functional and weatherproof infrastructure at their disposal. This should help improve the level of hygiene and encourage the integration of the various social groups. Population in the region has been heavily increased by the many people displaced by the civil war. Support for this project has also come from "Latitude 21" of the Canton Neuchâtel. A total of CHF 50'000 has been earmarked for our 7 projects in Congo.

Our second focal point is Uganda where we have 7 projects for a total of CHF 45'000. Furthermore we have 4 projects in Tanzania for a total of CHF 48'000. 2 of these projects are supported by the charity "Solidarität Dritte Welt" and by the international Old Catholic charity "Diakonie und Mission". 1 project in South Sudan and 1 in Zambia complete our engagement in Africa. We would especially like to mention the vocational training programme in Ibba, South Sudan. In the training centre of the Diocese, school leavers can continue learning. They learn English and administrative skills and obtain a certificate of proficiency with which they are better placed to obtain employment and support themselves. We finance the teachers salaries and the purchase of computers and school materials. Owing to the civil war there is a shortage of local teachers and expensive teachers from other countries must be employed. We support the training of local teachers in order to reduce costs.

Eight Projects in Asia
The independent Philippine Church is a long established partner of our charity. In 2018 we support seven of their projects for a total of CHF 43'300. The eighth project is in Hong Kong where we support other Christian Churches in the provision of a refuge giving advice and support to abused domestic helpers from the surrounding countries.

A significant part of Partner sein's income comes for the Lent collection in our various parishes. Partner sein greatly appreciates this ongoing support and sends its heartfelt thanks. Also highly appreciated are the individual contributions we receive for specific projects or the general work of Partner sein. Important and very appreciated is the support we receive from the Mission Collection, the Swiss World Day of Prayer, the charity Solidarität Dritte Welt, the Anglican churches in Switzerland and other organisations. We thank you all for supporting us.

This year sees a change in project responsibilities. Ioan Jebelean has retired as project manager for Asia. We would like to heartily thank him for his work over the years on behalf of Partner sein. Responsibility for Asia will be assumed by Beatrice Reusser Rüthy who will also continue to manage the projects in English speaking Africa. The responsibility for French speaking Africa remains unchanged with Franz Peter Murbach.