Help for the forgotten in Mozambique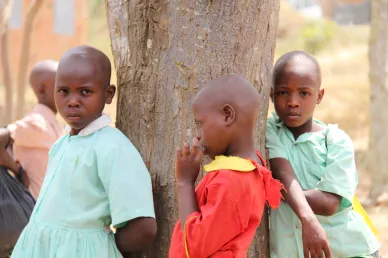 In cooperation with local partners, the Old Catholic charity Partner sein has approved 27 projects for the year 2019. With a total of CHF 211'500 we strive to improve the lot of underprivileged people in nine countries in Africa and Asia. For the first time we will be working in Mozambique where we will support long term refugees.
17'000 refugees from Ruanda, Burundi, Somalia and the Democratic Republic of Congo are living in the Marratana refugee camp in northern Mozambique. In part, for 15 years, with no hope of a return to their homeland. Together with specially trained professionals the Anglican Diocese of Nampula is trying to help the refugees develop new perspectives and, if a return to their homeland is impossible, prepare them for a new life in Mozambique.

As a result of the long civil war, this former Portuguese colony is one of the poorest countries in the world, ranking in 2016 in position 181 of 186 of the Human Development Index. Still today, more than half of the population lives below poverty level. The dependency of the public purse on foreign aid is very high. Over 80% of the population are peasants with little land and are particularly susceptible to natural catastrophes. In addition, the Aids epidemic has hindered development progress. It is not surprising that the state and the local population simply do not have the financial resources to help the refugees.

Committed Diocese
A large problem, which refugee organisations seldom (can) deal with, are the traumatic experiences many refugees have suffered. Bishop Manuel Ernesto leads the newly founded Diocese of Nampula, in which this refugee camp lies. The bishop, who himself has undertaken further education in this field in South Africa has strongly engaged himself in the psycho social support of these refugees. With self-help groups and the aid of professionals we hope to alleviate some or all of the trauma which the refugees have suffered during their flight. Collaboration with professionals from South Africa is also being sought.

The "Sint Paulus Missie" in the Netherlands, an Old Catholic sister organisation to Partner sein, has been actively engaged since many years in Mozambique. At the meeting of the Old Catholic charities in Vienna last autumn, it was decided that the various Old Catholic charities would collectively support this project in Mozambique in 2019 and 2020. Thereby setting a sign that refugees far from the limelight, and the news headlines, and often forgotten, are part of our world and we share a responsibility for them.

Further support in Lebanon
Partner sein continues its support for refugees in Lebanon. Syrian refugees continue to present a huge challenge to its neighbouring countries. We will support two reliable organisations, working on the ground, with CHF 10'000.

Focus Africa
The largest project of Partner sein is currently being realised in in Bagira, in the east of the Democratic Republic of Congo. After the successful completion of the first schoolhouse and related sanitary facilities, in the period 2017 to 2020 we will erect a second building so that all 600 primary and 200 secondary pupils have a functional and weatherproof infrastructure. This project continues to be supported by "Latitude 21" of Canton Neuchatel. For the seven projects in the Democratic Republic of Congo CHF 57'500 are reserved for the current year. A further emphasis is Uganda where we have four projects totalling CHF 35'900. In Tanzania, CHF 26'000 is foreseen for four projects. Finally, one project in South Sudan and one in Zambia complete our engagement in Africa. We would like to especially draw your attention to our project for vocational training in Ibba (South Sudan). This training centre, located in a peaceful area of this country torn by civil war, has become a key project for our charity. The extension of this centre is supported by the Swiss World Day of Prayer, Solidarity in the Third World and the ecumenical soup day in Allschwil.

Eight Projects in Asia
The Independent Philippine Church is a long established parter of our charity. In 2019 we will support seven projects for a total of CHF 44'500. The eighth project in Asia is Hong Kong where we, together with other Christian churches, support a shelter for domestic female staff from other countries abused or cast out by their employers.

A large part of the income from Partner sein derives from collections from Old Catholic congregations during Lent. Partner sein greatly appreciates this support and heartily thanks you all. Partner sein is also very thankful for all individual donations throughout the year, whether for a particular project or general charitable use. We also highly appreciate the financial support we receive from the Swiss Anglican churches in Switzerland. We will do our best to use these monies in a responsible manner. We thank everyone for their goodwill toward Partner sein and for their solidarity with less fortunate persons.