Small steps for a better world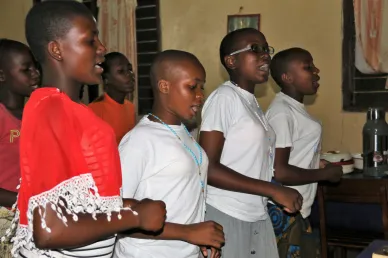 In 2020 Partner sein, the charity of the Swiss Old Catholic Church, will support 26 projects in 9 countries for a budgeted total of CHF 213'500. The 5 key focal points of our work will be Education, Health, Nutrition, Women as well as Refugees and war damaged persons.
Education

The right to be educated is a basic human right which many people are still deprived of. Education is the key to reducing poverty. Education projects have for many years been a cornerstone in the work of Partner sein. Starting with the support of Kindergarten pupils in the Philippines and in Masasi (Tanzania), it continues with the support of Aids orphans in Kanoni and the extension of the primary school in Bulyakamu (both in Uganda), school equipment for 50 children in Bunia and completion of a large school complex in Bagira (both in the war-torn Democratic Republic of Congo). In Zambia we assist with school fees for very poor schoolgirls and in South Sudan we help with vocational training for young women.

Health

The extension of the Health Centre in Sayuni, our showcase project in Tanzania, is almost completed. Partner sein continues however to support the training and further education of the Anglican nuns who run the Centre. On the island of Idwji, in the lake of Kivu (DR Congo), we finance the cost of the necessary medicines needed to provide basic healthcare. In war-torn East Congo the level of mental suffering is especially high. We continue to support the Psychologist, Amani Busane in his psychological and psychiatric treatment of sexually exploited children and young adults.

Nutrition

Sufficient food and access to clean drinking water is for millions of people something that they cannot take for granted. Since 2012, Partner sein, together with local partners, has financed the tapping of over 70 springs of drinking water on the island of Idjwi. This project continues along with the project "a cow for a poor family" in Bagira. In Masasi, Tanzania, the Anglican sisters run an environmentally sustainable farm. They breed fish and chickens which they provide to local farmers at a fair price. We are supporting the construction of the fish ponds and chicken houses.

Women

Particularly in Africa, women are the backbone of their societies. Thus, several projects are aimed at improving their status and bettering their chances in life. In Masasi we pay the running costs of a hostel for young women between 12 and 18, in Kanoni we assisted with the construction of a workshop facility for women and schoolchildren. In Eastern Congo we help train the wives of Anglican ministers in practical as well as health and nutritional matters. In the Philippines we assist young women of the Independent Philippine Church to study theology.

Refugees and war damaged persons

In Goma, children orphaned by the wars in DR Congo are being prepared in a dignified and sustainable manner to be able to live a normal life. A second project, in coordination with the local Anglican Church, supports the treatment of psychosocial problems of long year refugees in the UNHCR camp at Maratana in Mozambique. Syrian refugees have fallen out of sight (and mind). However, the local need remains. Consequently, for the 6th year in a row, Partner sein supports refugees in Lebanese camps.

For the continued financing of these small steps, Partner sein relies heavily on the good will and financial support of donors. A contribution to Partner sein, no matter how small, will help improve the lives of underprivileged persons.